Having unique features in your home adds to its character and charm, and using reclaimed wood for your flooring project is one way to achieve that. Unlike newly sourced wood, reclaimed wood brings with it history and distinct beauty. Reclaimed wood is high-quality wood that has been up-cycled and comes from places such as:
Barns
Factories
Grain elevators
Retired ships
Wine casts
Long-abandoned buildings
Also, reclaimed wood is environmentally friendly. It's wood that has been used for one purpose and is recycled for another use. Some might say it is the most sustainable resource for wood flooring. Environmentally conscious homeowners often choose to use reclaimed materials in their homes to be as green as possible. We strive for 100 percent sound usable material for our custom flooring options made with reclaimed barn wood and never supplement with pallet or new wood.
In the green building industry, reclaimed wood can contribute to your project gain a LEED (Leadership in Energy and Environmental Design) certificate for its resource efficiency. The Forest Stewardship Council also gives certifications. Having these may qualify your home or building for special benefits.
Because reclaimed hardwood has spent many years exposed to elements that caused it to expand and contract based on the moisture levels in the air, it comes to you in a settled state. The wood will be especially sturdy and durable. On Superior Hardwoods of Montana's list of top 10 reasons to choose reclaimed lumber, you can see many other reasons this type is a good option.
How Buildings Eventually Become Reclaimed Wood
Collecting and processing reclaimed hardwood lumber in order to make reclaimed wood flooring is a detailed process. It starts with deconstructing buildings largely by hand. A crew usually removes the roof first. Getting rid of the ceiling and roof structure reveals the usable pieces on the inside of the building, such as brown barn board that made up the interior walls, additional beams, joisting and weathered barn siding.
The crew separates timbers into two categories "" hand-hewn and as-is. Next, they pack and ready the reclaimed lumber for shipping to the reclaimed lumber manufacturing company. The manufacturing company that receives the lumber goes through a labor-intensive period to prepare the lumber for use or processing, which includes:
De-nailing
Defecting
Stacking
Placing stickers in strategic spots
The lumber used for flooring is the best quality of all the material inspected.
Achieve a Special Look With Antique Reclaimed Barnwood Flooring
The barnwood flooring we offer at Superior Hardwoods of Montana comes from carefully deconstructing barns no longer in use, salvaging the wood and refinishing it. This process takes the place of aggressively demolishing the barn and discarding the wood used to build it.
When barns are torn down or the buildings fall into bad condition, you can preserve a lot of that wood. We repurpose the best of what's left and handcraft it into gorgeous flooring. The options include anything from darker, rustic options to light remilled wood.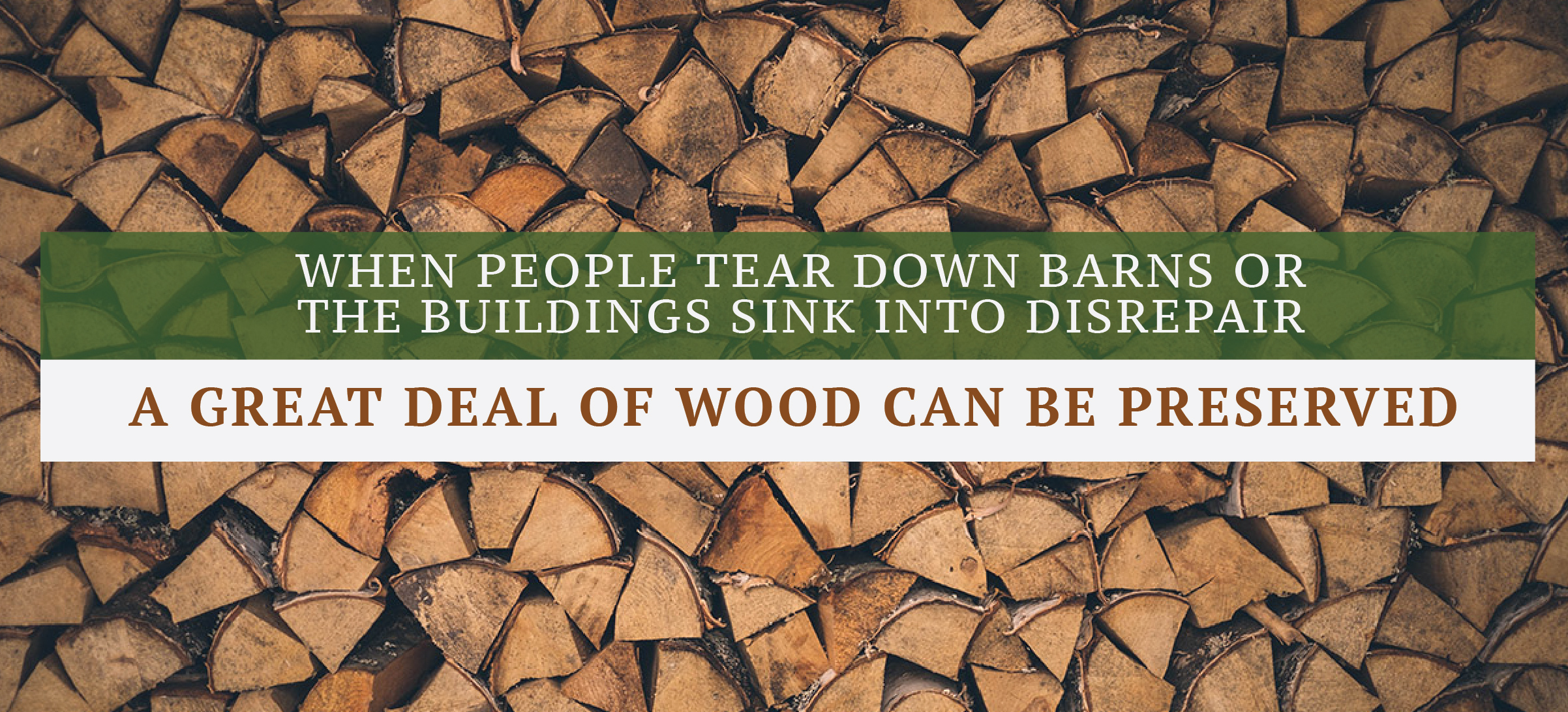 The repurposing occurs in our millshop, where we turn out flooring that still retains the character from the wood's previous life. The quirky shapes and imperfections that give barns their character remain evident on the wood we repurpose. Wood grows more beautiful and distinct with age. The aging process where the wood has weathered for many decades naturally enhances the color of it for a unique look.
There are many different species and finishes of reclaimed wood to choose from. Barns use many wood species depending on where they were built.
Why Choose Wide Plank Hardwood Flooring?
Our Heirloom Series of reclaimed wide plank flooring gets its name because the hard and soft woods that are a part of the selection come from buildings that are more than a century old. The 100 percent antique wood from graineries and barns that were functioning long ago are given a second life through this collection.
The original material is anywhere from 100 to 150 years old. Unlike some companies that mix in pallets of up to 30 percent new wood and sell it as reclaimed wood, our antique wood is authentic.
Creating a custom look for your space becomes easy when you consider the variety of choices we offer, from distinctive dark hues to classic antique oak colors. The wood may be smooth or show authentic markings from wood work done to it in the past. You may use one or more widths for your final flooring design for a truly personalized look. Antique, reused wood comes with a number of visible attributes that aren't found in new wood. Some of the unique features you may find are:
Natural knots
Holes formed by insects or hardware
Exceptional color variation
One example is our Glacier Grainery wide plank hardwood flooring from our Heirloom Series. This exclusive floor is 100 percent reclaimed and repurposed from old grain elevators scattered throughout the western United States.
Our Glacier Grainery Wide Plank Flooring is typically manufactured from 2 x 6, 2 x 8 and some 2 x 10 wood cribbing blanks. One of the most important processes comes on the manufacturing side of our business, to maintain as much as possible the original finish with its tones and textures.
Written by Superior Hardwoods, experts in reclaimed lumber. Updated 5/10/19.